If you're wondering how to host an Airbnb property the right way and sick of spending hours every week managing your bookings, an Airbnb property management service is the answer. 
We've scouted 3 of the best Airbnb property management services in Sydney and put together a rundown of pricing, services and reviews for each one.
Why use an Airbnb Property Management Service?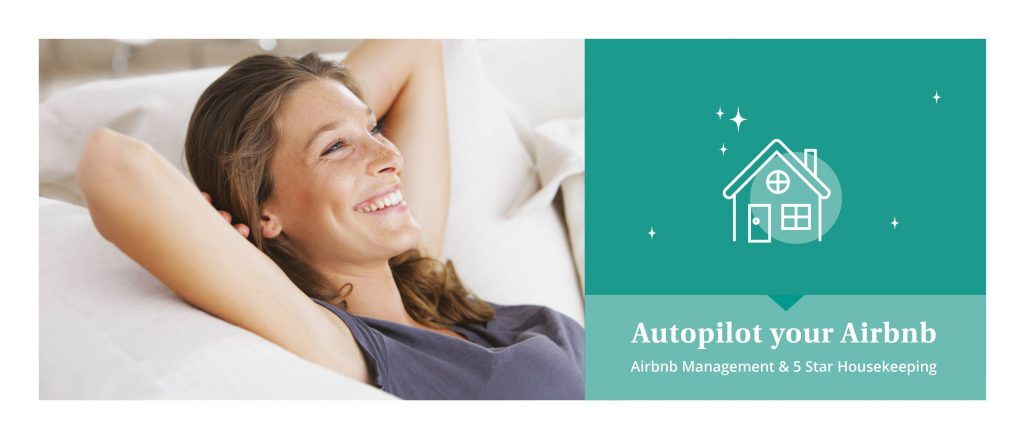 Hosting one or several, Airbnb properties can suck the time right out of your week. Most noteworthy, managing bookings, checking in guests, cleaning and property maintenance all take time.
Furthermore, the expectations of Airbnb guests are on the rise too and all it takes is one lousy review to sink your listings fledgling reputation.
Enter your superstar Airbnb property manager. Hiring a pro to handle everything from listing to property maintenance won't only give you back time, it can seriously increase your property income too. It's the mission of a great property manager to deliver a 5-star experience for your guests.
Even better, happy guests mean more 5-star reviews, boosting your properties rep and ensuring those bookings keep rolling in. All this adds up to more cash in the bank.
Many Airbnb property managers can also advise on the ideal rental price for your property and will adjust the value as demand fluctuates due to seasonality or changes in the market.
Here's our pick of the top 3 Airbnb property service managers in Sydney, Australia: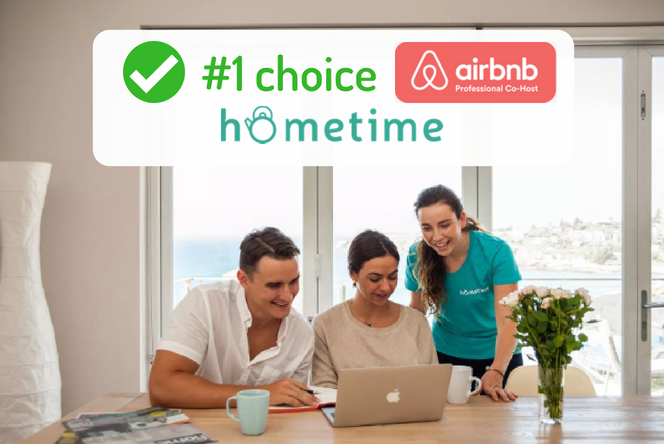 Dave Thompson and William Crock are the co-founders of Hometime, passionate about property management and Airbnb hosts themselves. Shortlisted in the top 5 for StartCon's StartUp Of The Year 2017, Hometime is the first home management startup in Australia to form a partnership with Airbnb.
First off, a property management service for Airbnb like Hometime will take over the entire short-term rental process, including:
A dedicated property manager
Listing optimisation + property photography
Rental price evaluation and guidance
Guest screening + communication + check-in
Housekeeping and property maintenance
Personalising the guest experience with a welcome pack + toiletries
24/7 guest support
On top of that, Hometime offers an on-demand housekeeping service, for hosts who are comfortable managing their property but need help with cleaning and linen services between stays.
How Hometime's property management service works
Initial enquiry + welcome call – After completing the online enquiry form, you'll receive an obligation free welcome call from a Hometime property manager.
Property assessment – After the initial call your account manager will arrange a meeting with you at your property to provide a more accurate estimation of the income you can receive.
Photograph the property and optimise the listing –  Hometime will organise professional photos of your property and optimise the listing to increase bookings.
Management – They then take over the management of the property from bookings, managing guests, cleaning and property maintenance.
How Hometime's on-demand Housekeeping service works
That's not all! When you create a free Hometime account, a big benefit of the housekeeping service is the ability to sync your Airbnb calendar with Hometime's cleaning schedule. This means a cleaning service is automatically booked after each guest has checked out.
Have you ever wondered what stress-free Airbnb looks like? Let us know what you think of our new video!

Posted by Hometime on Sunday, February 18, 2018
Hometime Reviews
We use Hometime often for a couple of our different properties and sometimes for house cleaning bookings last minute. Sharon and her team have always accommodated our needs and our properties are left extremely clean thanks to our cleaner Nomi.

Karzi Macca


March 12, 2019

I have been using Hometime (used to be known as Kayla) for more than 2 years now. They have the best time slots to accommodate my schedule. I use them for my rental apartment and i also use them for my own housekeeping at home. I have a list they follow closely and they always email back with the work done in an email with pictures. They make my life stress free and makes me happy to know that my apartments are well taken cared for. They are so good that i do not actually want others like my friends to now about it as selfishly i want them all to myself!! But they do need to be heard. I give in!! Try them and let them help you free time from your day!!

Simo K


March 31, 2017

I have been using Hometime for almost 6 months now and they have delivered a very professional hassle free service. The team is fantastic, communication is always easy and quick to get in contact with them. I'm kept up to date about the cleaning services which have been fabulous. Guest reviews have been maintained at 5 star. I highly recommend Hometime!

Belinda


May 7, 2017

I used Hometime in Sydney to do changeover cleaning and inspections for an AirBnB property - they were reliable, the fees were reasonable, and communication was good. I'd recommend Hometime to do changeover cleaning for short term rentals in Sydney.

Yaffa Yat


March 7, 2019

I have been dealing with James Avramides and he has been nothing short of amazing. Courteous, kind, nothing is too much trouble and he goes out of his way to ensure you are totally happy with the accommodation. His communication is totally amazing. Can't say enough great things about him.

Sue Trainor


March 25, 2020

Great all round experience from the get go. Had one small issue with the property manager but it was resolved swiftly.

Francisco Fernandez Humble


January 29, 2019

Great all round experience from the get go. Had one small issue with the property manager but it was resolved swiftly.

Francisco Fernandez Humble


January 29, 2019

I LOVE HOMETIME. As a Host of a premium property, housekeeping and attention to detail is such an important part of welcoming guests. Before finding Hometime I had terrible experiences with multiple cleaners. Starting with Hometime has completely changed my experience as a host and has taken all the stress our of it. Hometime have high attention to detail, know how to follow instructions, are technology based and driven and have incredible customer service. Thank you Hometime!

Jessica Baird Walsh


September 4, 2017

I continue to have a great experience with this company and have had consistent and multiple bookings. Every step runs seamlessly and the communication is exceptional. I know I can trust them to have my best interests at heart and every staff member I come into contact with are across the details of the booking and process for my home. I highly recommend them.

Kate Lorden


September 25, 2018

To say Krystina, my property manager, is wonderful is an understatement. She is forever discussing ways we can try and achieve a better outcome for us and the guests. Her attention to detail is fantastic and quickly reacts when there is a problem that needs rectifying, negotiating with trades people and keeping me well informed throughout the process. We are very lucky to have her looking after our property.

Dianne Diamond Walford


March 9, 2020

I have a number of apartments listed with Hometime. Fantastic business. Great communication and great return on my investment. Couldn't be happier! Thanks guys!

Paul Carter


February 21, 2019

Honestly - I could not be happier with Hometime and particularly Cam! Nothing is too hard for them & him. It's so easy and I don't have to worry about a thing. Absolutely love it! Cam is the BEST.

Amy Carlson


May 28, 2018

Hometime have been great service and provide exceptional customer service, always responding quickly and providing great support for managing Airbnb bookings. I manage 2 apartments and they clean these and change linen and towels and leave it looking at hotel standard. The cleaning team is consistent and reliable, arriving always on time and work efficiently with great quality control. When there are problems they respond appropriately. They email me immediately once the job is done and with that email send a set of pictures that show it in its final pristine state. The pics are so good I have used some on my Airbnb pages and have included some of their pics here in the review. The customer service is great and I have been impressed with how they respond quickly to variations I might need and address any problems I might bring to them. If you are managing an Airbnb then this is the service for you. I could not do it without them! (And no I do not work for them I am a very happy customer)

Sandy Beveridge


April 1, 2017
"I'm thrilled with both the cleaning and online service Hometime offers. Their staff are friendly, super efficient and always accommodating. The cleaners pay attention to small details and the pictures sent after the cleans ensure any special instructions are followed. I highly recommend Hometime."
★★★★★ Sophie Graycar, Sydney
"Hometime will make sure your keys are returned, the beds in your home are made with fresh sheets, and keep your home clean and tidy between stays. They do all this for the lowest commission fee in the market."
★★★★★ The Australian
Check out more Hometime reviews here.
Founded by travel and share economy enthusiast, Joel Cacciotti Hey Tom started in 2015 and has grown to one of the biggest Airbnb property management services in Sydney.
Hey Tom services
Hey Tom offer a comprehensive Airbnb management service including:
A dedicated property manager
Listing optimisation
Rental price evaluation and guidance
Guest screening + communication + check-in
Housekeeping and property maintenance
Furnishing
Hey Tom Property Purchasing
In addition, Hey Tom offers a property purchasing service for those in the market to grow their Airbnb property portfolio. The service includes determining the best investment locations, identifying suitable properties and forecasting returns.
Pricing
2 models of pricing – shared and fixed income
Reviews
Check out Hey Tom reviews here.
Last but not least, HomeHost also provides a suite of Airbnb management services. While they don't provide consultation on rental market price, they do offer a bunch of extras you can add to the service package. This can include a car rental and personal chef services for a premium guest experience.
HomeHost services
Optimising your Airbnb listing
Guest screening + communication + check-in
Housekeeping
24/7 concierge service for guests
Storage solutions – for your personal property
Airport pickup
Car rental
Personal chef
Pricing
15% of each booking + cleaning fee
Reviews
Check out HomeHost reviews here.
We hope our pick of the best Airbnb property management services in Sydney help get your Airbnb management sorted….. and those 5-star reviews rolling in!