Whether you're new to the Airbnb game or a superhost, at some point you're going to ask yourself:

How on Earth can I make this easier?
Sure, it's great to see the extra income roll into your account at the end of every month, but at what personal cost?

Managing an Airbnb can be time-consuming, stressful, and a downright pain at times. Which is why more and more hosts are handing over the workload to Airbnb rental management companies.

In short, these companies take a small cut off of your bookings and handle all the rest. But before we reveal the best ones we've found in Melbourne, let's see why you should hire them in the first place.
Why Use an Airbnb Rental Management Company in Melbourne?
If you could travel back to 2010 and list your Melbourne place on Airbnb, you'd be in a cozy group of only 41 homeowners. Fast forward to 2018, and there are now around 54,697 listings for the Melbourne area!

In one way, this is good news: surely, if an increasing number of people are jumping on the bandwagon, it's because it's working. And yes, Melbourne's Airbnb occupancy rate is the 2nd in the world, hovering around 70%.

But wait a second….

Because that also means around 16000 Melbourne spaces will not manage to get bookings at all.

In short, you'd better have strong listing skills and marketing savvy to get your place in front of short-term renters' eyes. This is something an Airbnb rental management agency will tirelessly strive to do for you, and you'll benefit from all their expertise working with hundreds of other listings. Not to mention a whole host of other pros, as you'll see below.

So without further ado, here are our #3 picks for the best Airbnb property service managers in Melbourne, Australia.
#1 Airbnb Management Company in Melbourne: Hometime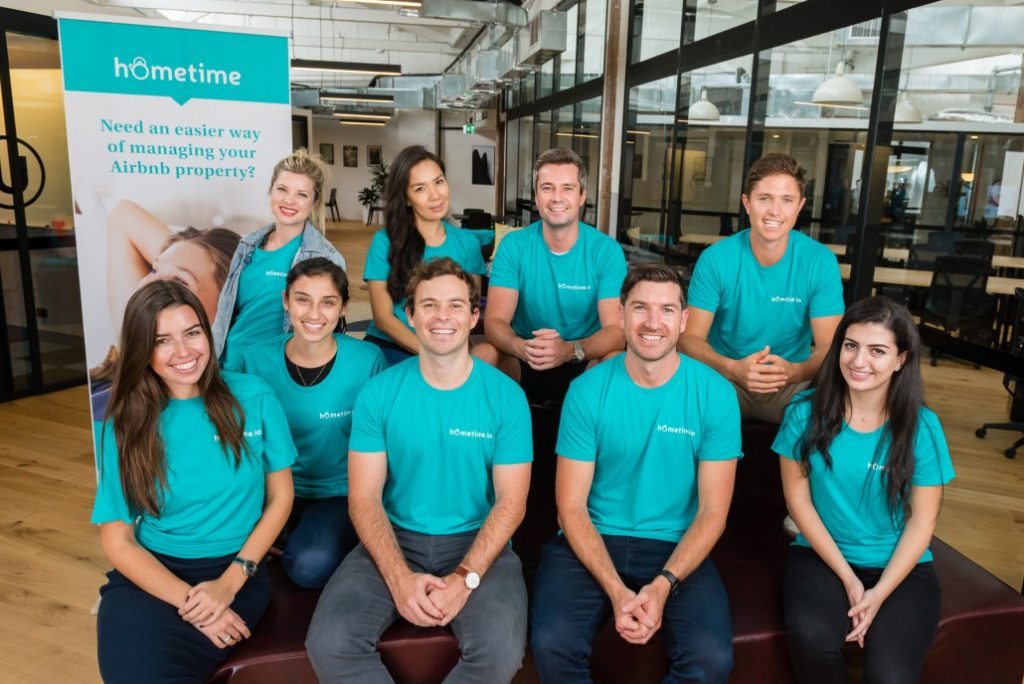 The reason we're putting Hometime at the top is that we know they can get you more bookings. In fact, Hometime's managed listings have an 87% occupancy rate and earn 30 – 50% more than the average host.

The company, founded by Dave Thompson and William Crock, is the first Australian company to form a partnership with Airbnb. But more importantly, we love how they take care of the entire short-term renting process for you. With Hometime, you get:

A property manager who understands and gets the most from your space
The expertise of a whole marketing team for optimizing the listing
Professional photography to highlight the best parts of your space
Complete rental price evaluation and dynamic price adjustment
Full guest communication and check-in service
Housekeeping and property maintenance
Personalized welcome packs
24/7 support for guests
And apparently it works: Hometime's listings have around 95% five-star reviews, which is the surest way to ensure guests coming back – and listings rise to the top of the Airbnb algorithm.
Getting Started With Hometime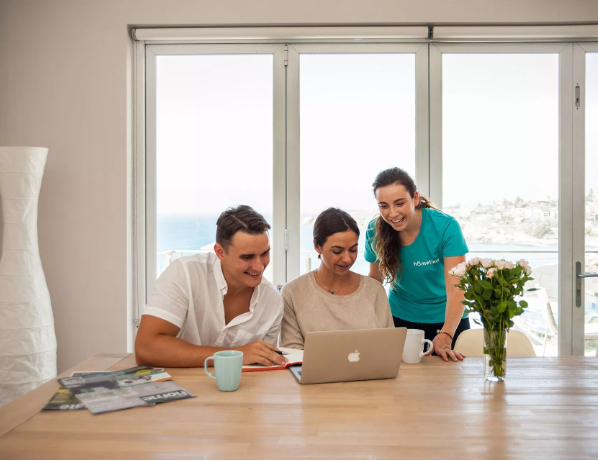 It's ridiculously simple. You complete their online form, and a Hometime property manager will get back to you. This is all free, of course.

Then, the property manager will come to visit your place in Melbourne to give you a more estimation of how much you should be able to earn.

Once you're happy with their projection, you can allow Hometime to book a professional photographer and work on your listing to increase occupancy.

From that point onwards, you can sit back, relax, and let Hometime do the hard work. They'll communicate with guests, deal with cleaning, and ensure your property is always full, and always successful.
Hometime's On-Demand Housekeeping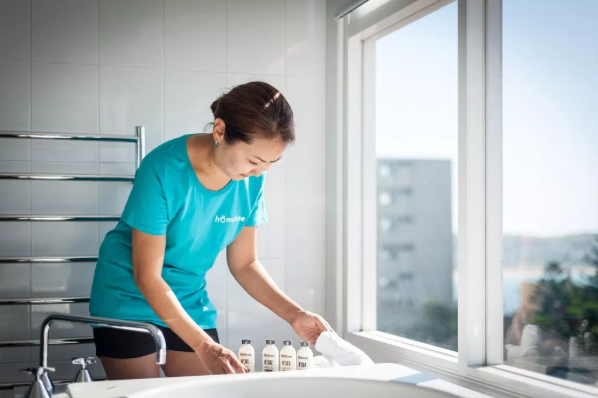 And wait there's more!

Because Hometime also offers an on-demand housekeeping service, you can still manage the property yourself and get them top provide luxury hotel-standard cleaning, laundry and linen service.

Hometime will simply sync their schedule to your Airbnb calendar so guests always have spotless accommodation when they arrive. Check out Edies Place
Learn More
What Hometime Users Have to Say
I LOVE HOMETIME. As a Host of a premium property, housekeeping and attention to detail is such an important part of welcoming guests. Before finding Hometime I had terrible experiences with multiple cleaners. Starting with Hometime has completely changed my experience as a host and has taken all the stress our of it. Hometime have high attention to detail, know how to follow instructions, are technology based and driven and have incredible customer service. Thank you Hometime!

Jessica Baird Walsh


September 4, 2017

Great all round experience from the get go. Had one small issue with the property manager but it was resolved swiftly.

Francisco Fernandez Humble


January 29, 2019

Hometime are doing an Amazing job with my property. The cleaning is spectacular my Property Manager communicates with me in a timely manner relays all information to me and answers my questions. I feel supported in this new arena and I feel that any concerns I have that they will be dealt with. We are on the same page. Thankyou Hometime

janita abra


December 3, 2019

Hometime took over my Airbnb property approximately 7 months ago, after managing the unit myself for 12 months. I began communications with an account manager named Ellie. She made the transition completely seamless, and made some fantastic suggestions making the apartment far more appealing to guests. The occupancy rate has been over 95%, the pricing has been extremely competitive, and Ellie has always gone above and beyond looking after the guests, and keeping an open line of communication to me when necessary. Highly recommend, especially if Ellie is looking after your property.

David H


March 25, 2020

I'm thrilled with both the cleaning and online service Hometime offers. Their staff are friendly, super efficient and always accommodating. The cleaners pay attention to small details and the pictures sent after the cleans ensure any special instructions are followed. I highly recommend Hometime.

Sophie Graycar


October 23, 2017

To say Krystina, my property manager, is wonderful is an understatement. She is forever discussing ways we can try and achieve a better outcome for us and the guests. Her attention to detail is fantastic and quickly reacts when there is a problem that needs rectifying, negotiating with trades people and keeping me well informed throughout the process. We are very lucky to have her looking after our property.

Dianne Diamond Walford


March 9, 2020

Hometime have been great service and provide exceptional customer service, always responding quickly and providing great support for managing Airbnb bookings. I manage 2 apartments and they clean these and change linen and towels and leave it looking at hotel standard. The cleaning team is consistent and reliable, arriving always on time and work efficiently with great quality control. When there are problems they respond appropriately. They email me immediately once the job is done and with that email send a set of pictures that show it in its final pristine state. The pics are so good I have used some on my Airbnb pages and have included some of their pics here in the review. The customer service is great and I have been impressed with how they respond quickly to variations I might need and address any problems I might bring to them. If you are managing an Airbnb then this is the service for you. I could not do it without them! (And no I do not work for them I am a very happy customer)

Sandy Beveridge


April 1, 2017

I used Hometime in Sydney to do changeover cleaning and inspections for an AirBnB property - they were reliable, the fees were reasonable, and communication was good. I'd recommend Hometime to do changeover cleaning for short term rentals in Sydney.

Yaffa Yat


March 7, 2019

I have been using Hometime for almost 6 months now and they have delivered a very professional hassle free service. The team is fantastic, communication is always easy and quick to get in contact with them. I'm kept up to date about the cleaning services which have been fabulous. Guest reviews have been maintained at 5 star. I highly recommend Hometime!

Belinda


May 7, 2017

I continue to have a great experience with this company and have had consistent and multiple bookings. Every step runs seamlessly and the communication is exceptional. I know I can trust them to have my best interests at heart and every staff member I come into contact with are across the details of the booking and process for my home. I highly recommend them.

Kate Lorden


September 25, 2018

I have been using Hometime (used to be known as Kayla) for more than 2 years now. They have the best time slots to accommodate my schedule. I use them for my rental apartment and i also use them for my own housekeeping at home. I have a list they follow closely and they always email back with the work done in an email with pictures. They make my life stress free and makes me happy to know that my apartments are well taken cared for. They are so good that i do not actually want others like my friends to now about it as selfishly i want them all to myself!! But they do need to be heard. I give in!! Try them and let them help you free time from your day!!

Simo K


March 31, 2017

Great short term AirBnB rental property management reducing the hassle. We have used HomeTime during our absence for several months with great results and experience: As friction-less as possible service set-up and during account lifecycle, great real-time market insights maximising return potential, great property management including cleaning, maintenance and keys transfers between guests, great responsiveness when needed reporting back on any logistical issues, as well as reporting back on account earnings. HomeTime designates a dedicated account manager and support team who were outstanding with communications and feedback. They also provide great realtime transparency about occupation and return rates through their own portal integrated to AirBnB. Definitely recommended.

Miguel Rosado Boulet


July 9, 2019
The Hostkeep website promises to "help make more money for Melbourne property owners". Co-founded by Stephen Colman, they take an 18% commission on bookings after cleaning and other fees have been subtracted.

Like Hometime, the full service works by providing assessment and onboarding before working on the promotion and management of your listing. They have been in operation for 3 years and currently manage 57 short stay listings around Australia, run by a small team of 8. Hostkeep's services include:

Listing optimization
Dynamic pricing adjustment
Inquiries and reservations
Property maintenance
Cleaning services
Property security
For more information about Hostkeep, please visit www.hostkeep.com.au
Read More: Guide to Finding The Perfect Airbnb Property Manager
According to AirSolved's website, the focus is on making Airbnb management as painless as possible. Easy, simple, and spotless are all words you'll find in their marketing material. In terms of services, this means:

Full property management: listing management, property guide, price optimization etc…
Key exchange, cleaning and laundry service.
Interestingly, they also offer an interior design service, so you can invest in furniture and furnishings to make your space shine even more.
For more info about AirSolved, please visit www.airsolved.com.au
Read More: Top 7 Tips To Be A Good Airbnb Host
Conclusion
At Quickbreaks, we've written numerous times about the benefits of hiring a good Airbnb property management agency. Unfortunately, it's not something everyone in Australia can do. In some areas, these agencies are simply not there.

But with the large Airbnb market in Melbourne, you'll be spoilt for choice. Just make sure you contact the best agencies out there for free and see how much they could work for you while you enjoy complete freedom (and passive income) from your Airbnb listing.
Are you hosting in Sydney? Check out our review of the Top 3 Sydney Airbnb Property Management Services.