With its fervent lust for outdoor living, amazing feasting and endless beach-bumming, Sydney is Australia's crown jewel.
The city has it all: a magnificent harbourfront, sensational beaches, multi-cultural feasting, plenty of alternative hot-spots and a sunny disposition. Unsurprisingly, it'll make you want to pack all your worldly belongings and move here permanently. If you can't do that just yet, then an Airbnb rental in Sydney is the next best thing. At least it'll feel like you're living in this glorious city of ours!
Experience city like a local, not a tourist, when you kick off your Sydney stay with our MUST-DO: Top Sydney Experiences You Just Can't Miss.
1.    Splurge on a sundowner at the Opera Bar, Circular Quay, Sydney
Yes, there may be more to Sydney than Circular Quay and its resplendent Opera House yet not heading here first and foremost would still be a colossal travesty for any first-time visitor.
Your first glimpse of the city's revered harbourfront will no doubt leave you speechless.  First, discover the sparkling white sails of our most beloved theatre coupled with dazzling blue skies. Then admire the stunning city-scape. These elements make for a phenomenal first impression. Even lifelong Sydney-siders can't get enough of this place!
Feel like a local and head to the Opera Bar for delicious cocktails. Take time to soak up the spectacle of the harbour and its steely 'coat-hanger' turning crimson red at sunset.
2.    Enjoy a picnic in the Botanical Gardens, City Centre, Sydney
Sunday afternoons in Sydney are usually spent languishing on the lawns of the Botanical Gardens. Bring your friends and family, feast on picnic yummies and watch luxury yachts sail by.  With a host of gorgeous gardens to visit for free and spectacular views thanks to Mother Nature, the Royal Botanic Gardens are the best place to be on a sunny Sydney day. Where to buy those delicious picnic yummies? Keep reading!
3.    Stock up on super fresh produce at the Carriageworks Farmers Markets, Eveleigh
Conveniently enough, the city's premier farmers markets operate every Saturday morning, perfect if you want to fill up a picnic hamper with all sorts of delicious delights. Even better, stock up the fridge of your Airbnb rental in Sydney.
Housed in a beautiful multi-arts centre next to Sydney University, Carriageworks may not the cheapest farmers market you'll come across in Sydney but it is exceptionally good with loads of organic produce from all over the State making an appearance.
There are food-stalls and demos run by Sydney's celebrity chefs, bucketloads of cheap and delicious lunch options. Then, fill in your picnic basket with gourmet cheese, rustic breads and home-made chutneys. Stalls open at 8am so get here early to avoid the crowds.
4.    Tackle the Bondi to Coogee walk, Bondi Beach, Sydney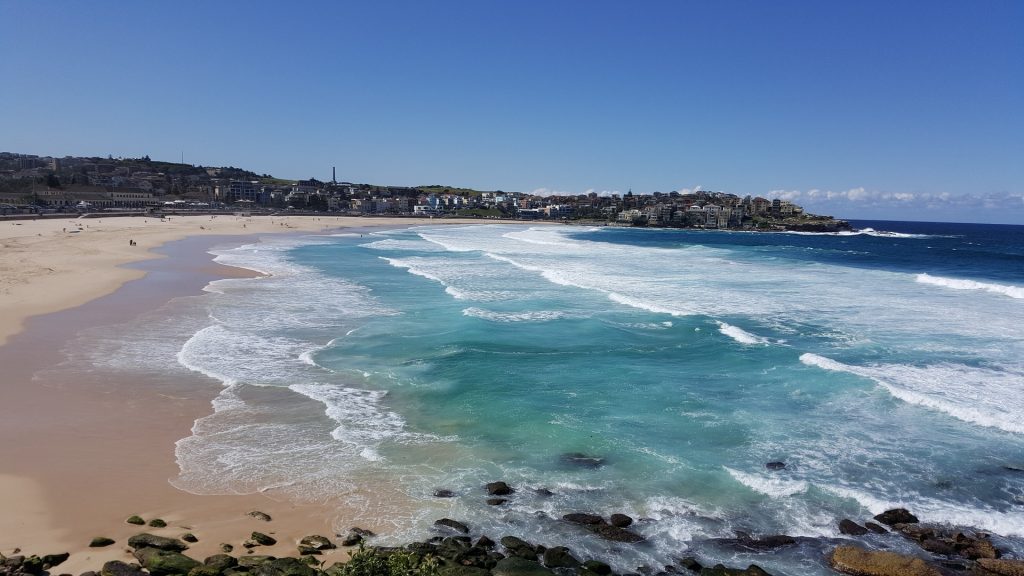 Sydney's renowned as a foodie paradise and it's not surprising to know that most Sydneysiders spend their weekends walking off their calorific splurges. Ya know, in-between the picnics! Our favourite leisurely stroll is known as the Bondi to Coogee Coastal Walk. It's a superb trail that hugs the coastline for 6kms, guiding you alongside outstanding cliffs, natural pools. As a bonus, enojoy the view of not one but six of Sydney's best beaches: Bondi, Tamarama, Bronte, Clovelly and Coogee.
Even Will Smith fell in love with it… And you should too:
5.    Gobble down a Tiger Pie at legendary Harry's Café de Wheels, Woolloomooloo
Oh, look, more food! Time to reward all that walking you've done and replenish some much-needed energy. What better way to do that than to gorge on one of the famously delectable creations at Harry's Café de Wheels?
This legendary mobile hot-dog stand hasn't actually been very mobile for the last 70 years . As a result, it has become a bonafide icon on the waterfront in Woolloomooloo. Their signature pie is the Tiger. It's a good ol' Aussie beef pie topped with potato mash, mushy peas and lashings of gravy.  Tons of other options, including vegetarian feta and spinach rolls, make Harry's an ideal choice. An unmissable culinary Sydney experience.
6.    Play a game of SUP-footy, Manly, Sydney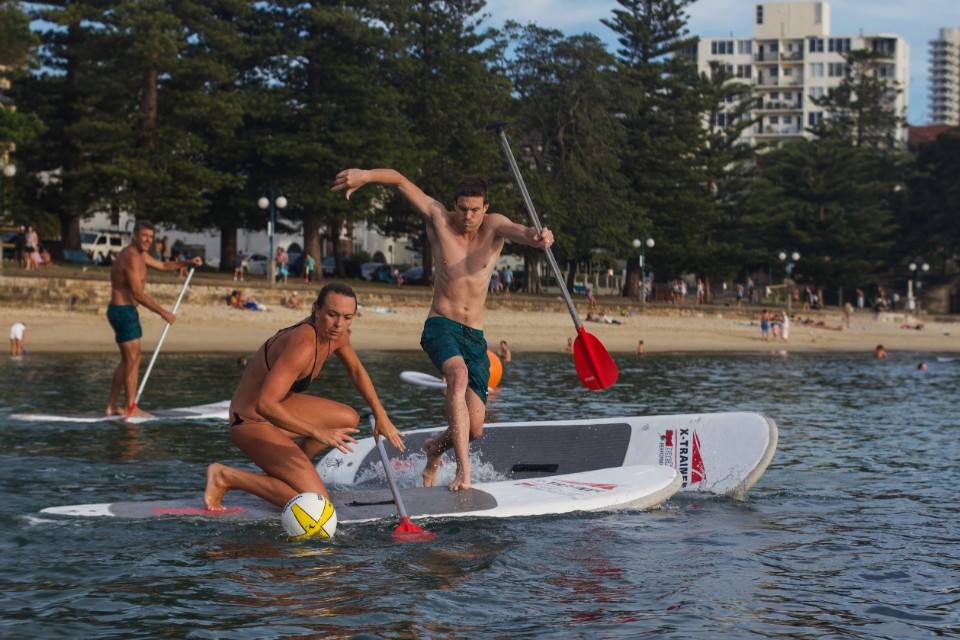 Source: Manly Supball @ Facebook
For a SUPer fun time, however, head back near the ferry wharf and take a SUPBall lesson with the crazy guys who invented the sport. A hybrid between football, lacrosse and water polo (with seemingly flexible rules) SUPBall is the funniest thing you'll ever do on a board.
The ferry-ride from Circular Quay to Manly is the actual MUST-DO Sydney highlight here. However, you'll also find plenty to see and do in Manly to make this a multi-dimensional excursion.
Soak up the views on the half-hour ferry journey across Sydney Harbour (no need to pay double for a fast-cat ride when the views are this great). Then, stroll down the Corso to reach sprawling Manly Beach, where surfers, picnickers and sun worshippers descend every day in summer.
7.    Grab all your souvenirs at Paddy's Markets, Haymarket, Sydney
Years ago, Paddy's Markets was known for its cheaper-than-thou souvenirs yet the historic Market City, which has been churning out wares for a century and a half. Actually, they sell some pretty great stuff nowadays. Here, you'll find all manner of Australiana-themed goodies to bring home, as well as a host of, well, everything you'd ever need during your Sydney.  
8.    Go for gold with yum-cha at the Golden Century, Sydney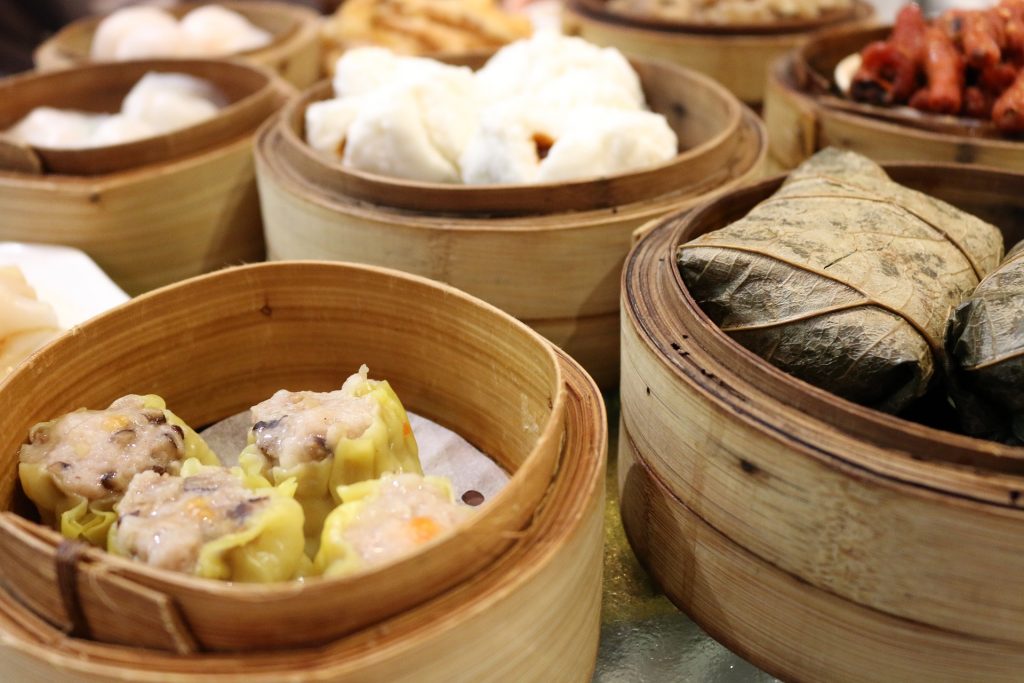 For the best post-Paddy's shopping feasting, head just one block north into Chinatown. Then, let your nose lead you to the Golden Century, a Sydney foodie institution like no other. Sure, they have a fancy-pants a-la-carte menu here but everyone really only comes for the yum-cha experience.
Frenetic, fast, mouth-watering and not too expensive (this is Sydney, after all) the freshly made yummies here are the best in the city. If we started a petition for UNESCO to award the Golden Century's 'clams in XO sauce' culinary heritage status, we think we'd have a real shot at securing it.
9.    Meet the Friendly Koalas at Taronga Zoo, Mosman
Ideally located on a promontory on the northern shores of Sydney, Taronga Zoo is rated one of the best in the world. This colossal property is home to a host of Australian wildlife and endangered species from all over the world.
A not-for-profit wildlife refuge and research centre, Taronga showcases all that can be beautiful about zoos, keeping exhibits as natural as possible and serving up a wicked wildlife experience.
A 15-minute ferry ride away from Circular Quay, this place just rocks. Although, you'd want to visit during the week and certainly outside of school holiday periods. Come and say hello to the koalas, kangaroos and furry wombats. 
10. Take a day trip to the Blue Mountains, Katoomba
Sydney certainly has plenty of suburbs to discover and you will find it difficult to leave the city for a whole day. But, if you can tear yourself away from Sydney, then make sure the Blue Mountains are firmly on your radar.
This UNESCO-listed national park is about a 2-hour drive west of the city's centre and renowned for its Three Sisters rock formations, temperate rainforest and, when the light is just right, a wonderful blue hue that's out of this world.
Once here, you can head off on bushwalking trails, visit waterfalls, learn more about the area's indigenous history and even peruse the super quaint shops of nearby Leura. Get here by train from Central Station and use buses to get about or let a local guide show you around. There are plenty of agencies which run day-trips from Sydney and you can use Tourism Australia's website to plan your independent visit.
There you have it, that's the top 10 must-do experiences in Sydney.
If you're looking for an Airbnb to stay in Sydney, check out our best recommendations here.