Who knows? Maybe during your Airbnb time as a host, you'll be lucky enough to only deal with perfect guests. Those who leave the bed sheets neatly folded, the kitchen spotless and a 5-star review to boot.
But chances are, at some point or another, you'll end up with a guest like the one Jill from the UK had to deal with:
"Just had a guest who left unwashed crockery, disgusting toilets, wet towels everywhere… After I wrote a comment, I got this back: Did you really expect us to clean the house before leaving?"
Yup. The sad reality is that nobody really wants to think about the cleaning, least of all your guests. But as a host, it's your responsibility to ensure the housework is done.
Now there are a few ways you could go about it. Today we're going to weigh the pros and cons of doing it yourself, hiring a regular cleaner, or relying on a professional agency.
The Pros and Cons of Cleaning Yourself for Airbnb

If you've just started with Airbnb and only run one listing, you'd think it makes sense to clean yourself. But be prepared to see your time vanish along with the stains left by guests. Still, there are some benefits of doing it yourself:
Pros
Lower overheads: you're not paying someone to clean the flat/apartment/house. This means more money in your pocket at the end of the day.
You stay in total control: If the listing is for the property where you live, you might want to be the one who does the housework. Maybe you don't want strangers to access your private room, or you don't trust a cleaner to deal with your expensive Persian rug.
Good for perfectionists: If you only trust yourself to do the perfect job when it comes to cleaning the space, then, by all means, do it!
Cons
It's time-consuming: It's all about thinking about the economics of it. Yes, you're saving money, but are you wasting time that could be spent on earning more money? Or maybe just valuable time you could dedicate to doing something you love?
Lower booking availability: Can't have guests in the space while you're cleaning it! That means sacrificing a good chunk of the month for switchover days between guests – maybe a pro could do the job a lot faster.
Less focus on getting bookings: Time spent scrubbing the bathroom tiles is time spent away from your computer to optimize listings or contact guests for future bookings.
More responsibilities on your shoulders: Cleanliness is one of the main things guests complain about on Airbnb. If you consider your space to be clean but the guests don't, the responsibility falls on you. At least with a cleaner or professional agency, you can explain that you'll have a word and they'll do a better job next time.
Read more: How to Get More Airbnb Bookings
The Pros and Cons of Hiring A Cleaner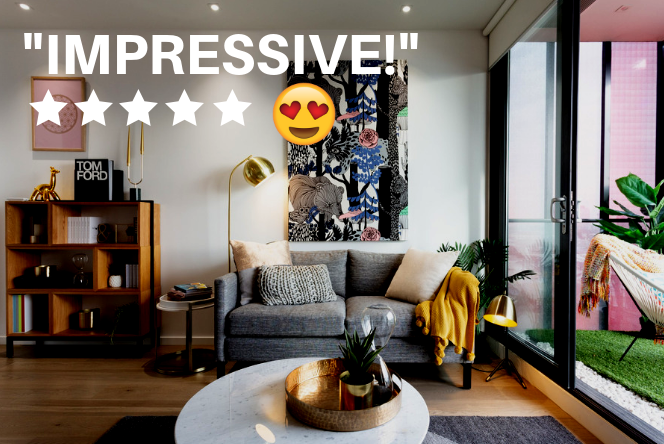 Continuing with our scenario where you only deal with a small number of listings, you might consider finding a professional cleaner near you.
Pros
More control over the cleaning process: you can dedicate some time to train the cleaner and tell them exactly how you want things done.
Develop a relationship: if you deal with the same cleaner regularly, you'll get to know them pretty well, which is akin to having a trusting employee of your own.
Cons
Candidate research: it could take weeks, if not months before you find a cleaner whose services you are happy with.
Relying on one person only: putting all your eggs in the same (cleaning) basket. What if the cleaner gets sick? What if they have a last minute emergency? Unless you want to run the risk of drastically lower your Airbnb rating with an unclean space, there will be a time when you'll need an emergency cleaner – or will have to do it yourself.
Read More: Top 7 Tips to be a Good Airbnb Host
The Pros and Cons of a Professional Airbnb Housekeeping Agency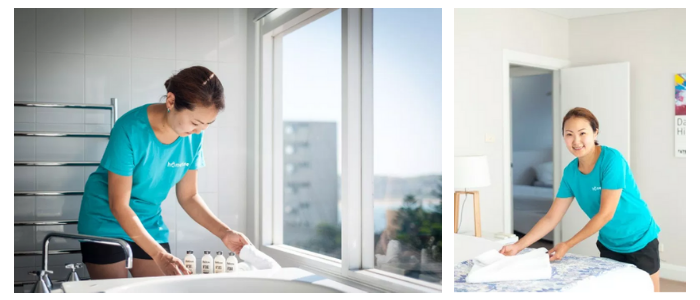 Some might think hiring a full Airbnb housekeeping company is a bit OTT for single listings. But as you'll see, the same benefits apply whether you have one space to rent or if you run a full-scale Airbnb business.
For these pros and cons, we'll be looking at Hometime, one of Australia's leading Airbnb housekeeping and property management company.
Pros
Complete peace of mind: you contact the agency, set up a test run and that's it. Congratulations! You're now done with any stress associated with cleaning your AirBnB space.
Reliability: Airbnb housekeeping agencies such as Hometime have rotating staff, so you're never left in last minute panic situations if the cleaner doesn't show up.
Hospitality standards: everyone's idea of what is considered clean is different. But hospitality standards are unquestionable: when you get Hometime to hire your cleaners, you can be sure guests never have anything to complain about, from perfectly fresh linen to spotless floors and surfaces.
One point of communication: Hometime and other Airbnb property management companies will have a dedicated team that manages the cleaners. This makes it easier to speak to one person who can train, organize and manage the multiple cleaners.
Other property management services: A good Airbnb management company will usually offer complete packages. For instance, Hometime also provides guests communication, check in management, listing improvement and full-on booking solution. In short, they could completely automate your Airbnb business so you can stand back, relax, and watch the profits roll in.
Cons
Company research: just like with a single cleaner, it could take a while to find the ideal company for your needs. Or worse, you could be in an area where no company operates.
Expenses: Some Airbnb management companies may try and take a huge chunk off of your earnings. However, you might be surprised by how affordable it can be.
Read more: The Guide to Finding The Perfect Airbnb Property Manager
Have an Airbnb Cleaning Strategy
Airbnb cleaning isn't something to take lightly. In fact, after last-minute cancellations and downright scams, it's the third thing guests complain about the most.

So to put all the odds in your favor, do ensure the space is always spotless. Hopefully, this article will have given all the info you need to decide whether you, a cleaner or a full agency should be the one to deal with it.
Interested in hosting? Check out our Ultimate Guide to Making Money with Airbnb.